Crumps Carpentry Plus LTD – Building & Renovation Services
Crumps Carpentry Plus Ltd – a reliable trusted company which provide quality building services in Hampshire & surrounding counties. Specialising in extensions, refurbishments & timber buildings.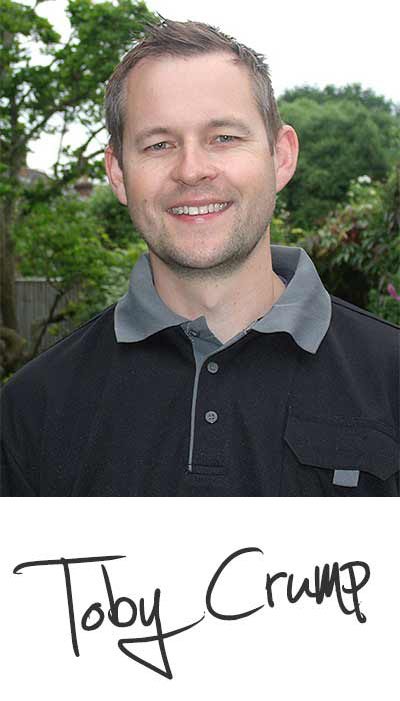 Toby Crump
Whether you have just moved & looking to renovate or just simply need more space, Crumps carpentry & building services can offer you a professional tailor made service from initial planning stages to the last final decorative finish.
We can to anything to suit your budget & work through all the seasons.
We will undertake any building project and manage the whole project from start to finish, on-site. Our services include.
Extensions | Renovations | Timber Buildings | Carpentry | Kitchens | Bathrooms and Bedrooms | Bespoke and handmade woodwork | Electrical wiring and fitting | Plumbing | Gas | Plastering | Painting and decorating
If you feel that we are able to help you, please don't hesitate to get in touch for a quote.
WHAT OUR CLIENTS HAVE SAID
Here are a selection of reviews taken from our Checkatrade pages, click here to read more reviews and our full profile

First floor extension plus change of bedroom to en-suite bathroom
"We are very pleased with the work that has been completed. The first floor extension has blended in well to the existing property both externally and internally. Mark and Toby have been pleasant to deal with, completely trustworthy and gave us useful alternative ideas during the build. Work included en-suite fitment and custom made bedroom furniture. Once the build started they remained on site until work completed. Where sub contractors were used EG: electrician, plasterer the same comments would apply. We would happily recommend to anyone looking for a builder to do similar work."
Customer in Southampton
18 June 2017
Single story extension, creating a large open plan space and new kitchen.
"Delighted with our extension that has been finished to an extremely high standard. What I liked is that Toby and Mark do all the work themselves apart from a few specialised jobs. They are really polite and courteous, a god send when they are in your house day in day out. Very flexible, we added in extra work which wasn't a problem. They offered good advice and were very patient when I changed my mind about things. They supplied me with a hob and moved my oven around from room to room so I was never without a kitchen. They started the job when agreed and kept on the job. Happy with price too."
Customer in Waterlooville
14 April 2017
Utility room fitted
"Very impressed with all aspects. Would definitely recommend."
Customer in Fareham
28 March 2017
Demolition of interior walls and creation of new studwork
"Completed safely and efficiently with careful attention to services. Kept the area as tidy as possible."
Repeat Customer in Petersfield
14 November 2016
Oak framed partition between two rooms
"Listened carefully to the brief and created a beautifully crafted oak feature unique to the property, highly recommended."
Customer in Petersfield
14 November 2016
Building of porch and decorating.
"Excellent."
Customer in Fareham
9 September 2016
Sanding &finishing of wood floor.
"Excellent"
Repeat Customer in Fareham
9 September 2016
Patio/terrace, pond and shed
"Excellent."
Customer in Fareham
8 September 2016
Building-single storey extension and decorating.
"Excellent."
Repeat Customer in Fareham
8 September 2016
Single storey extension, removal of kitchen wall
"Kept informed at every stage. Good advice from initial visit to project conclusion. Additional work completed at quoted cost."
Customer in Emsworth
22 April 2016
Renovation of 150 year old barn to workshop
"Thoughtful work with respect to the original structures age. Ideas on ways forward with work to convert into useable workshop space."
Customer in Fareham
24 February 2016
Kitchen extension.
"Toby Crump Services worked on our home for 3 1/2 months. He was professional, courteous and friendly throughout. We have a stunning kitchen! Highly recommended."
Customer in Fareham
19 January 2016
Claire Crump
Our home rebuild is almost finished. Here is an update of the last few months: Roof & cladding Felt & [...]
Claire Crump
Final steels have now been fitted into position (12, steels in total), Hurrah! The biggest steel weighed over half a [...]
neilphil
Making Progress – Although to look at the house currently you may think otherwise! Roof has now been completely removed [...]