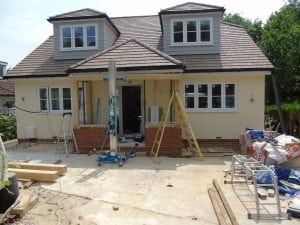 Our home rebuild is almost finished. Here is an update of the last few months:
Roof & cladding
Felt & batten were fitted to the roof joists followed by a modern red French clay tile. Fascia, soffits & black guttering were then fitted. Cement weatherboard cladding in pearl grey has been used around the dormers, barn ends & at the back of the property. The external walls have been coated in  buttermilk K rend.  K Rend render is a water-repellent, breathable solution which comes in a variety of colours so there is no need to paint. This makes it a low maintenance product.
Windows & doors
White balanced casement double glazed windows have been fitted throughout the property with anthracite grey Bi-fold doors fitted at the back. The front door is a PVC composite door in pearl grey with chrome fixtures.
Porch
The open porch is in the process of being constructed. Oak timber beams have been hand crafted & assembled to create the frame work. Red brick was used for the dwarf wall.
Moving on into the inside!
Plasterboard has now been fitted throughout with more insulation board fitted underneath. Insulation board helps with energy efficiency by keeping the house cool in the summer & warm in the winter therefore helping reduce energy costs. The walls & ceilings have been painted with a white paint wash to seal in the new plaster.
If you have a project in mind then please get in touch.